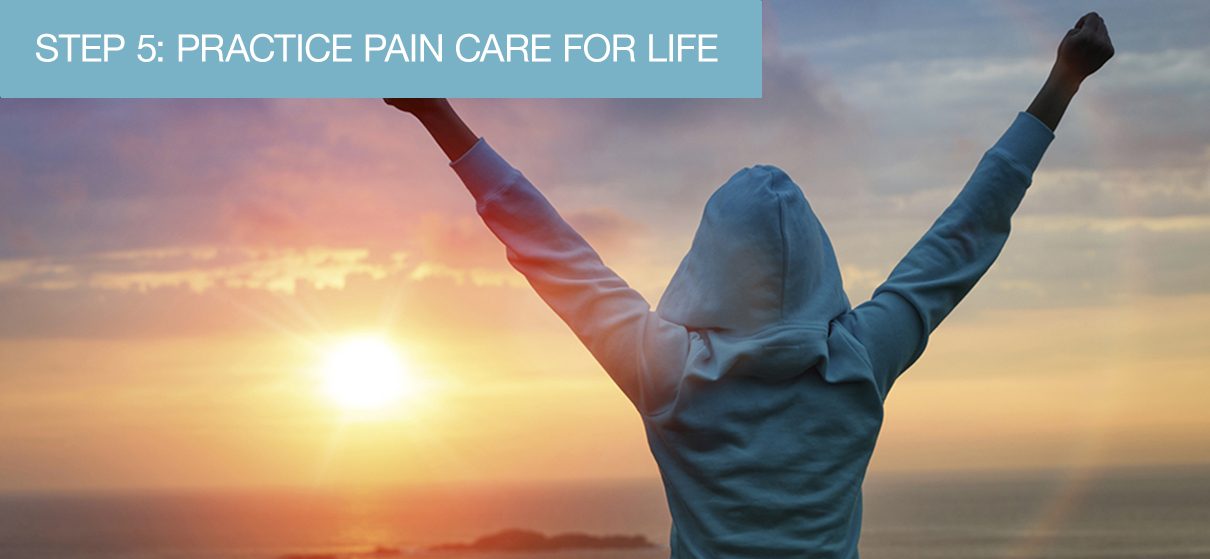 STEP 5: Practice Pain Care for Life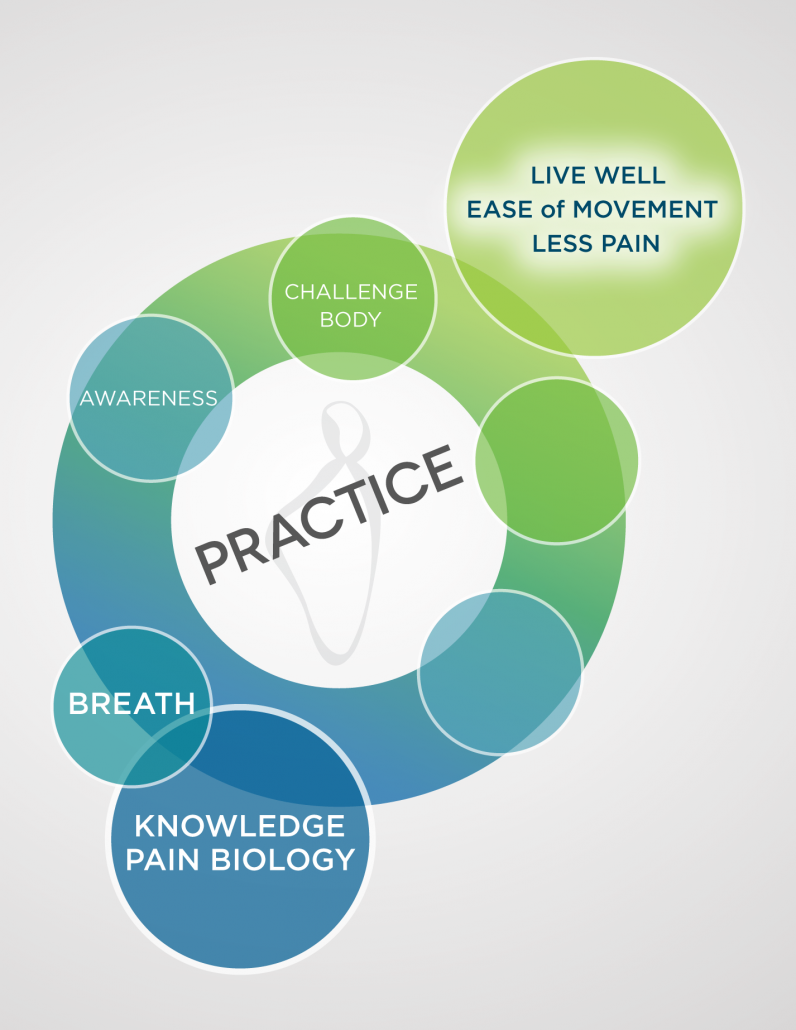 These steps are the beginning.
There is so much more to pain care.
Your next steps…
 … First, we would like to offer you a free educational e-book.
When you complete this brief SURVEY – telling us how we can improve the First 5 Steps – you will receive Understand Pain, Live Well Again, an e-book authored by Neil in 2008.
 … Second, take the pain self-assessment again, and compare your answers to your results before you tried the First Five Steps. You might be surprised. Give this a try.
 … Third, continue the steps. More practise will improve our skill. Repetition will allow you to improve your ease of movement over time and experience fewer flare-ups.
… Fourth, combine these techniques and ideas with all the important things you are doing to improve your sleep, your nutrition, … Even though the First 5 Steps and Pain Care for Life look like self-help, you will do best when you find others to support you and share what they have learned.
Some keys to ongoing success – Practice, Patience, Persistence, Compassion
…and, if you believe learning more information and techniques is the right path for you, then try Pain Care for Life, or try our other pain care Products.
The full Pain Care for Life package will increase your success in pain care—through more knowledge, skill and expertise.
Pain Care for Life is an online guided journey—video exercises, electronic books, audio lessons, and interactive ways to learn about your pain are all included to help you and your health professionals guide you towards living well again.
This process has helped many people move with more ease, reduce their pain and live well again.
As with all pain care techniques, we recommend you follow the guidance of your health professional if you choose to work through Pain Care for Life, and especially if your success so far has been difficult to attain.
---
---
Here is a list of what you will receive for the next 6 months as part of your Pain Care for Life package.
Introduction
Pain Care for Life Package
Format
Introduction – Paths To Recovery Knowledge
Video
Overcome Pain Live Well Again Full Lecture 1
Video
Overcome Pain Live Well Again Full Lecture 2
Video
Overcome Pain Live Well Again Full Lecture 3
Video
Understand Pain Live Well Again E-book
E-book
Key Messages of Pain Care
PDF
The Purpose of Pain
Video
Pain Perception
Video
Pain Management
Video
Hypersensitivity and Neuroplasticity
Video
Full Explanation of Pain Care
Video
Brief Explanation of Chronic Pain
Video
More Detailed Chronic Pain Explanation
Video
Optimistic Scientific Recovery Model
PDF
Additional Knowledge Resources
Know Pain?
PDF
Yoga for Chronic Pain
PDF
Breathing
| Pain Care for Life Package | Format |
| --- | --- |
| Introduction | Video |
| Breath Awareness | Audio |
| Longer Smoother Softer | Video |
| Alternate Nostril Breath | Audio |
| Sa Ta Na Ma Breathing | Audio |
| Record Your Own Sa Ta Na Ma | Video/PDF |
| Three Part Breath | Audio |
| Breathe into Pain | Audio |
| Extended Exhale | Audio |
| Guided Imagery | Audio |
| Record Your Own Belly Breathing | Video/PDF |
Awareness and Self Regulation
| Pain Care for Life Package | Format |
| --- | --- |
| Introduction | Audio |
| Seven Minute Body Scan | Audio |
| Breathe Awareness | Audio |
| Scan All Aspects of Self | Audio |
| Awareness of No Pain & Subtle Non Pain Sensations | Audio |
| Alternate Nostril Awareness | Audio |
| Record Your Own Breath Awareness | Video/PDF |
| Record Your Own Body Awareness | Video/PDF |
| Eleven Minute Body Scan | Audio |
| Sixteen Minute Body Scan | Audio |
| Twenty-four Minute Body Scan | Audio |
Challenge Your Body
| Pain Care for Life Package | Format |
| --- | --- |
| Introduction | Video |
| Exercise Guidelines | Video |
| Movement Guidelines Poster | PDF |
| Overcome Pain Gentle Yoga Level 1.1 | Video |
| Overcome Pain Gentle Yoga Level 1.2 | Video |
| Overcome Pain Gentle Yoga Level 1.3 | Video |
| Overcome Pain Gentle Yoga Level 1.4 | Video |
| Overcome Pain Gentle Yoga Level 2 – Balance Long | Video |
| Overcome Pain Gentle Yoga Level 2 – Letting Go Long | Video |
| Overcome Pain Gentle Yoga Level 2 – Courage Long | Video |
| Know Pain? | PDF |
Reset Nervous Systems
| Pain Care for Life Package | Format |
| --- | --- |
| Introduction to Resetting | Video |
| Using Distraction | Video |
| Changing Pain Beliefs | Video |
| Pain Management Strategies | PDF |
| Breathe Into Pain | Audio |
| Guided Imagery | Audio |
| Balance Meditation and Relaxation | Audio |
| Letting Go Meditation and Relaxation | Audio |
| Courage Meditation and Relaxation | Audio |
| Yoga Nidra | Audio |
Planning
| Pain Care for Life Package | Format |
| --- | --- |
| Planning For Success | Video |
| Some Guidelines for Planning | PDF |
| Meditation on Planning | Audio |
| The Importance of Practice | Video |
| Strategies to Calm and Escape | PDF |
| Purpose Meditation and Relaxation | Video |
| Overcome Pain Gentle Yoga Level 3 – Persistence Short | Video |
| Incorporating Physio into Pain Care Plans | Video |
---
Retake our Pain Self-Assessment Questionnaire
---