We support people living with chronic pain. Integrating pain science, the lived experience of pain, and mindful movement approaches.
PAIN CARE FOR LIFE
Pain Care for Life focuses on moving with more ease, while integrating pain science with skillfulness in keeping your body, breath and mind calm.
An essential educational and awareness package for those living with pain, Pain Care for Life offers guided practices and knowledge that will make ease of movement successful for you and your goals of recovery.
Take our FREE 5 Steps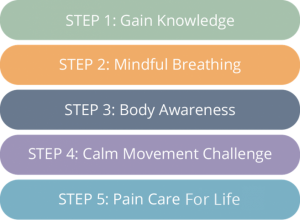 Follow our FREE 5 Steps and these important first steps will guide you towards making moving with ease a reality.
Pain self-management is a difficult skill to master. Life Is Now Pain Care products help increase your skills and your knowledge. Use them to find new ways you can move with more ease, to find more calmness, and more joy.
They are intended for use with the guidance of your health professional. They will help you succeed outside your health care visits when you are practising at home, and when you don't have easy access to one-one care.